Leahy Is Joined by Other Senators in Introducing Bill to Fight Online Piracy
May 12, 2011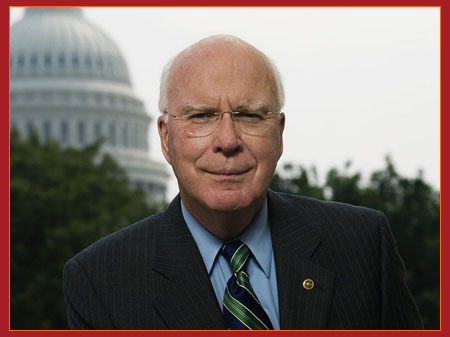 Senator Patrick Leahy joined his Senate Judiciary Committee colleagues May 12 in renewed bipartisan efforts to fight the illegal online sale of counterfeit goods by introducing S.968, the Preventing Real Online Threats to Economic Creativity and Theft of Intellectual Property Act, or PROTECT IP Act. This measure follows bipartisan legislation introduced in 2010, which had unanimous support from Senate Judiciary Committee members.
The legislation, introduced by Senators Patrick Leahy (D-Vt.), Orrin Hatch (R-Utah), and Chuck Grassley (R-Iowa), targets rogue websites dedicated to the sale of infringing or counterfeit goods.
According to Leahy's press release:
The PROTECT IP Act narrows the definition of a rogue website, while ensuring that law enforcement can get at the "worst-of-the-worst" websites dedicated to selling infringing goods. Copyright infringement and the sale of counterfeit goods reported cost the U.S. economy billions of dollars and hundreds of thousands of jobs, as well as billions of dollars in lost tax revenue for federal, state and local governments.
"This legislation will protect the investment American companies make in developing brands and creating content and will protect the jobs associated with those investments," said Leahy.  "It will also protect American consumers, who should feel confident that the goods they purchase are of the type and quality they expect.  The PROTECT IP Act targets the most egregious actors, and is an important first step to putting a stop to online piracy and sale of counterfeit goods."
"With this legislation, we are sending a strong message to those selling or distributing counterfeit goods online that the United States will strongly protect its intellectual property rights," said Hatch.  "Just because it's on the Internet doesn't mean it's free. Fake pharmaceuticals threaten people's lives. Stolen movies, music, and other products put many out of work. This is why protecting property rights is a critical imperative and is why we've come together in introducing this common-sense bill."
In reaction to the legislation's introduction, Recording Industry Association of America Chairman & CEO Mitch Bainwol issued a  
statement
applauding Senate Judiciary Committee Chairman Leahy, Ranking Member Grassley, Hatch, and the cosponsors for their support of the PROTECT IP Act. "We look forward to working with the Senate and the House as they continue to develop an effective law that will save American jobs, protect creators' property from rampant online theft and foster a legitimate online shopping experience for consumers," Bainwol said.